Bidding has ended on this item.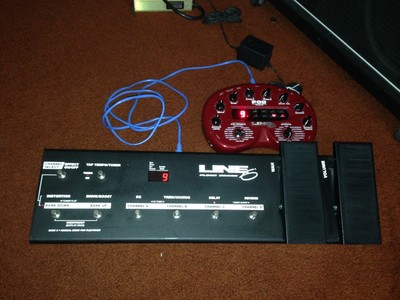 Similar items you may be interested in
Musical Instruments & Gear > Guitars & Basses > Parts & Accessories > Effects Pedals > Multi-Effects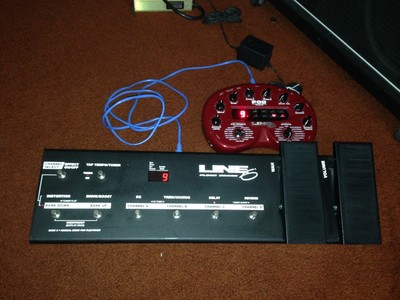 Similar items you may be interested in
Description
ALL ORIGINAL LINE 6 POD 2.0 + LINE6 FBV LONGBOARD + ORIGINAL LINE6 CASE + ORIGINAL LINE6 POWER SUPPLY COMPLETE GUITAR EFFECTS FOOT PEDAL SET This is a Powerful Effects Pedal that Sounds Awesome and Works Perfectly.

The industry standard for direct recording in the studio, POD® 2.0 delivers the tones heard on hit records everywhere.

NEED TO PRACTICE? The ultimate way to get inspiring, stage-perfected tones with headphones.

IN THE STUDIO Become more productive and creative.

INSTANTLY GET THE SOUNDS YOU NEED! Classic clean to modern high-gain tones all perfectly dialed in.

POD 2.0 allows you to quickly choose amps and effects without the long set up times and expensive equipment.

POD® 2.0 is the answer.

You get a wide variety of classic and modern guitar sounds with convenient, easy-to-use effects built right in.

Our revolutionary A.I.R.™ modeling accurately captures the tone and feel of speaker cabinets, microphones, and studio room characteristics for an amazing recorded sound direct to any recording setup or PA.

Sounds like having a great amp micd by a great engineer in a great studio! Amp Models based on*: '64 Fender® Deluxe Reverb®'59 Fender® Bassman®'68 Marshall® Plexi 100 watt Marshall® JTM-45 meets Budda Twinmaster '60 Tweed Fender® Champ® Budda Twinmaster head '65 Blackface Fender® Twin Reverb® '60 Vox® AC 15 '60 Vox® AC 30 non-Top Boost'85 Mesa/Boogie® Mark IIc+ Clean Channel'85 Mesa/Boogie® Mark IIc+ Drive ChannelDumble® Overdrive Special Clean Channel'95 Mesa/Boogie® Dual Rectifier® Head'89 Soldano SLO Super Lead OverdriveDumble® Overdrive Special Drive Channel1987 Roland® JC-120 Jazz ChorusLine 6® InsaneCabinet Models based on*: 1960 Fender® Tweed Champ®1952 Fender® Tweed Deluxe Reverb®1960 Vox® AC-151964 Fender® Deluxe Reverb®1965 Fender® Blackface Twin Reverb®1967 Vox® AC-301995 Matchless Chieftain1959 Fender® Bassman®1996 Marshall® with Vintage 30s1978 Marshall® with stock 70s1968 Marshall® Basketweave with GreenbacksLine 6® 4x12Line 6® 1x12Line 6® 2x12Line 6® 4x10 POD® 2.0 comes with a built in set of effects that are tweaked to perfection.

This "best of" collection of effects makes searching for the perfect sounds ultra easy.

Multiple versions of the effects give you rack or stompbox versions, and the combination effects give you classic setups like Delay and Chorus simultaneously.

There's even a full time Reverb, Tap Tempo for getting your delay's in time with the band, and an Effect Tweak knob for custom tailoring your effects.

Plus, you'll never be out of tune because you'll get a Chromatic Tuner with a silent mute function for tuning between songs.

POD 2.0 Effects: CompressorDelay/CompressorTremoloDelay/TremoloChorus 1Delay/Chorus 1Chorus 2Delay/Chorus 2 Flanger 1Delay/Flanger1Flanger 2Delay/Flanger2 Rotary SpeakerDelay/Swell DelayReverb POD® is equipped to handle today's guitar recording needs with +4dBu balanced or -10dBV unbalanced 1/4" connectors.

MIDI lets you automate every move and our optional FBV™ generation foot controllers let you do it all with your feet.

POD 2.0 also comes with a high-power headphone output for silent jamming.

Input - Plug your guitar in here.

Phones - Plug in your headphones here for silent practicing.

Left & Right Output - These are balanced 1/4" TRS connectors, and ready to rock with pro +4 dBu balanced equipment.

They will also work happily with unbalanced -10 dBV equipment and standard guitar cables.

A.I.R.™ Mode – If you want to plug POD into a guitar amp as "front end," flip the A.I.R. Mode switch to AMP, and set your amp for a clean tone.

This defeats the speaker-microphone-room tone simulation of the A.I.R. processing.

If you're using POD in almost any other setup (plugging direct into a mixer, recorder, PA, power amplifier, etc.) you want the DIRECT position on the A.I.R. switch.

Foot Pedal Connector - POD® 2.0 is now compatible with the entire line of current foot controllers including FBV Express™ and FBV Shortboard™! MIDI In & Out - Connect POD to your MIDI equipment to select channel memories or automate POD settings.